Don't get bat scammed!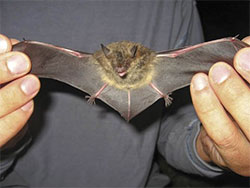 The most important step in getting rid of your bat problem, is hiring the right company for the job. There are plenty of companies out there claiming to be "experts" or "specialist" in bat removal. Just because they say it doesn't make it true. Bat removal can be one of the most costly pest related issues a home owner can deal with. It can also be one of the most difficult to solve. It takes a true professional to accurately diagnose and remedy your bat infestation.
Because bats can only be done during certain times of the year, companies that only do bats will often charge much more for exclusion due to the fact that they have to make as much money as possible during the short bat season. Also, companies that will only come to your area to do bats, but not other pests, will charge more to cover their travel expenses.
When hiring a company to solve your bat problem, you should always check their history and references. Are they licensed? Insured? Do they have any complaints with the Better Business Bureau? Do they change their name every couple of years. Does the company have several different names? Does the price they give you seem high?
Remember, not all bat control companies are the same. The very few that do take advantage of customers give the rest of us a bad name. If you feel you have been given false information, an unreasonably high quote or if you just want to get a second opinion, give us a call and we will offer you a discounted service call fee. We will send an experienced technician to your home and do a thorough inspection. Upon completion of the inspection we will give you an honest estimate that will be honored for 1 year.
Our company also offers complete attic clean up. Bats can leave an incredible amount of droppings (guano) in an attic. We can remove all contaminated insulation and droppings then deodorize and disinfect the attic. Upon completion of the clean up, new insulation can be installed according to building codes.
If you hear scratching noises in your attic, or if you suspect you have a bat problem in your attic, call the experts at Animal Pro for a complete inspection. With over 20 years of experience, we solve bat problems in SE Michigan including:
COUNTIES: Livingston, Oakland, Washtenaw and parts of Wayne. CITIES & TOWNS: Ann Arbor, Brighton, Canton, Chelsea, Commerce, Dexter, Farmington Hills, Hamburg, Hartland, Highland, Howell, Milford, New Hudson, Northville, Novi, Pinckney, Plymouth, Salem, South Lyon, Walled Lake, West Bloomfield, White Lake, Whitmore Lake, Wixom, Wolverine Lake and surrounding areas.
Call (248) 676-8800 for an appointment or e-mail Animal Pro at [email protected]