About Us
Animal Pro Inc. was founded in October of 2002 by Owner/Operator Joe Miley. Our goal is to provide safe and humane animal/pest control combined with good old fashioned customer service. All of our Service Technicians are state certified and are thoroughly trained in the safest and most up to date methods of pest control. Our techs maintain a neat and professional appearance and will always be polite and accommodating to our customers. We understand that a pest problem can be a very stressful situation for a homeowner. We aim to bring you peace of mind and want you to be comfortable with us in your home.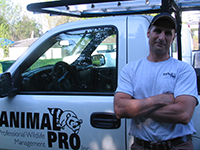 JOE MILEY Owner
Certification # C002010086
Joe has over 20 years of experience in the pest control industry and building trades. He began his career in Pear City, Hawaii back in 1991 and since then has performed thousands of successful pest control services, Joe has vast knowledge of animal and insect pests and his experience speaks for itself. He has done everything from fumigation of large container ships in Hawaii, to protection of fruit crops in Northern Michigan to thousands of animal and pest control jobs right here in SE Michigan.
New Team Member profiles are coming soon!
"I just want to take a moment to say thank you to all of our loyal customers and let you know how much I appreciate each and every one of you. It's the relationships I have built with my customers that makes this job so rewarding. If you ever need anything don't hesitate to call me."